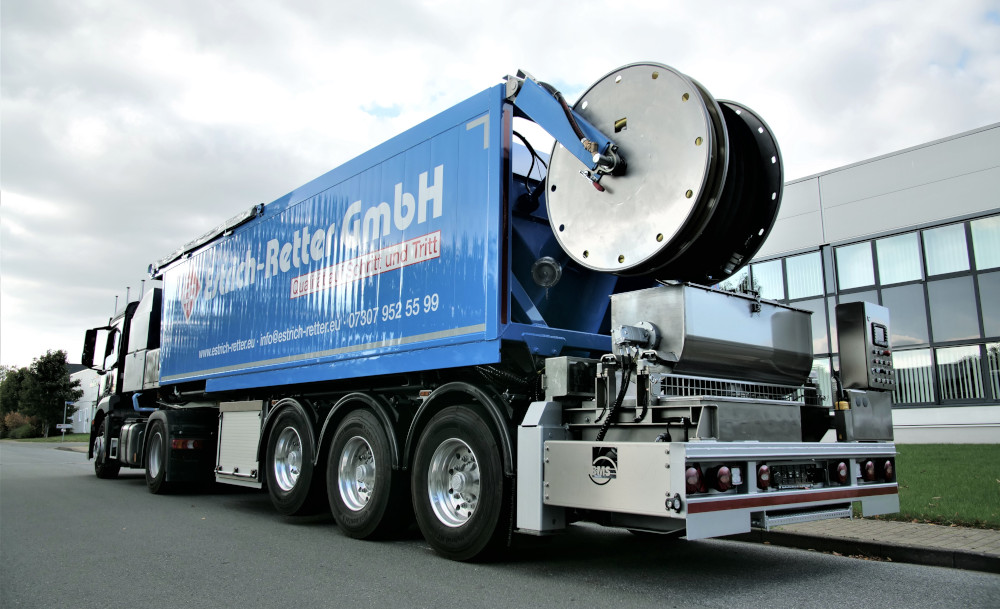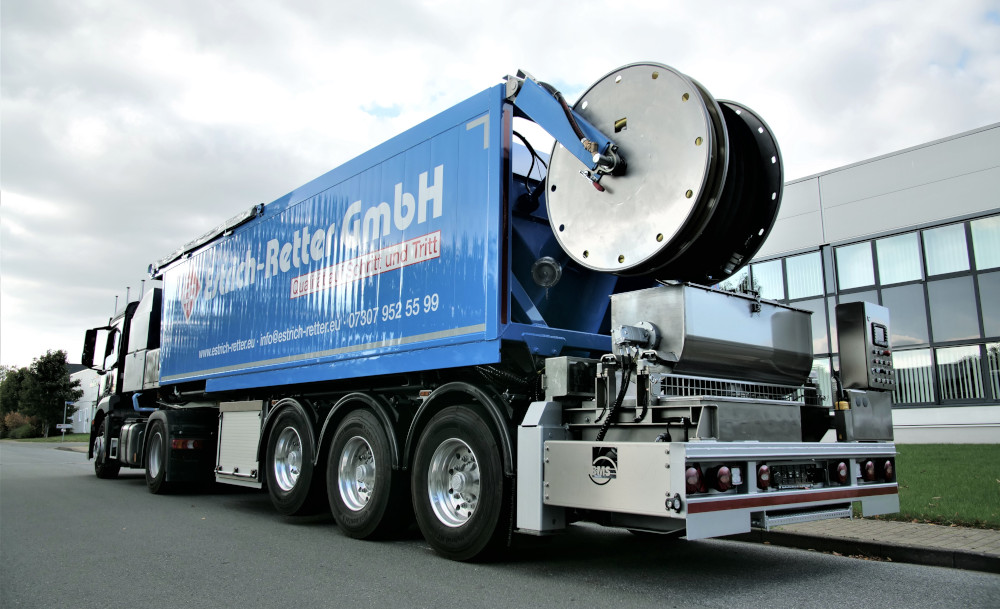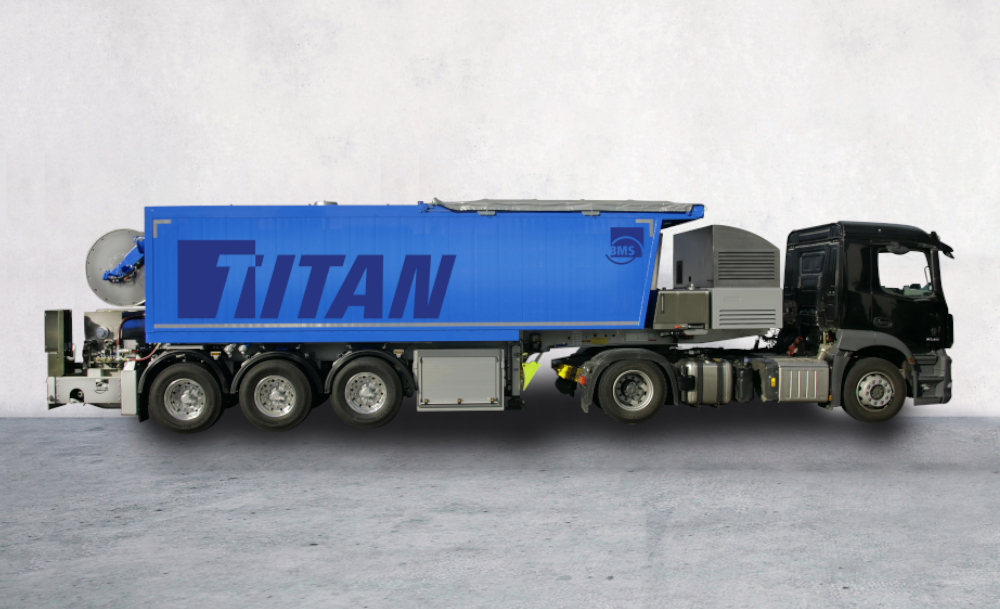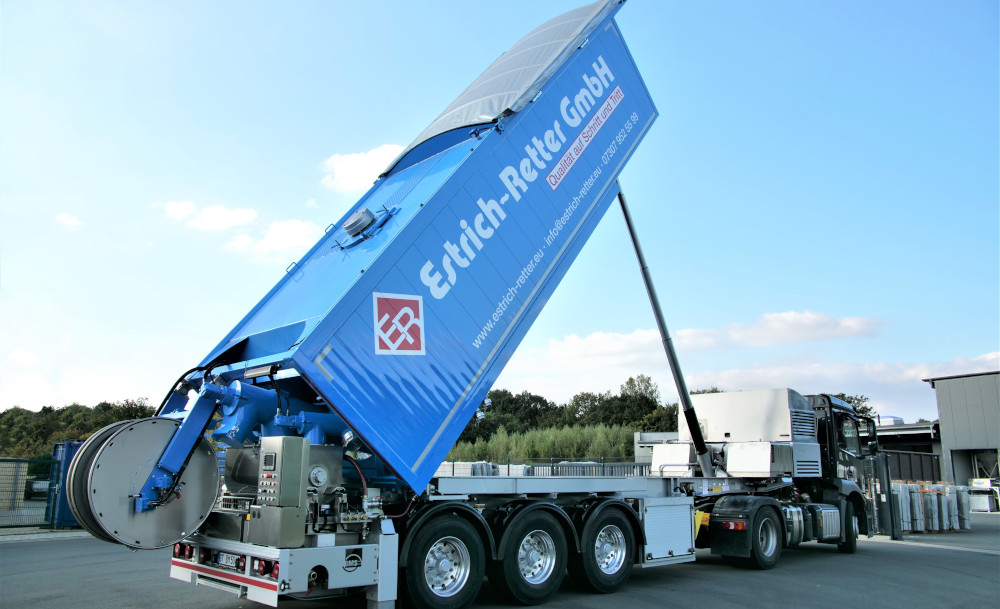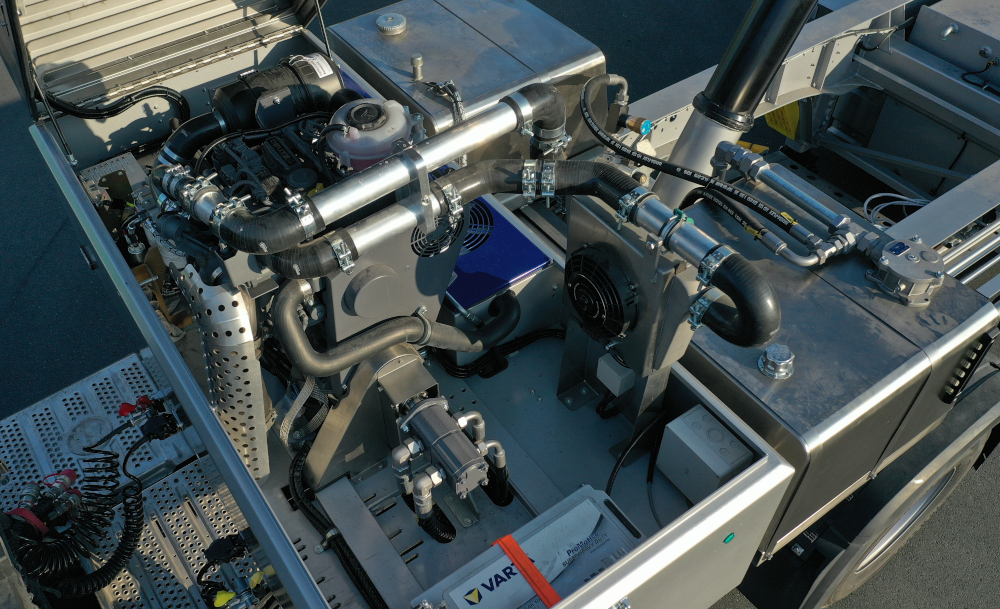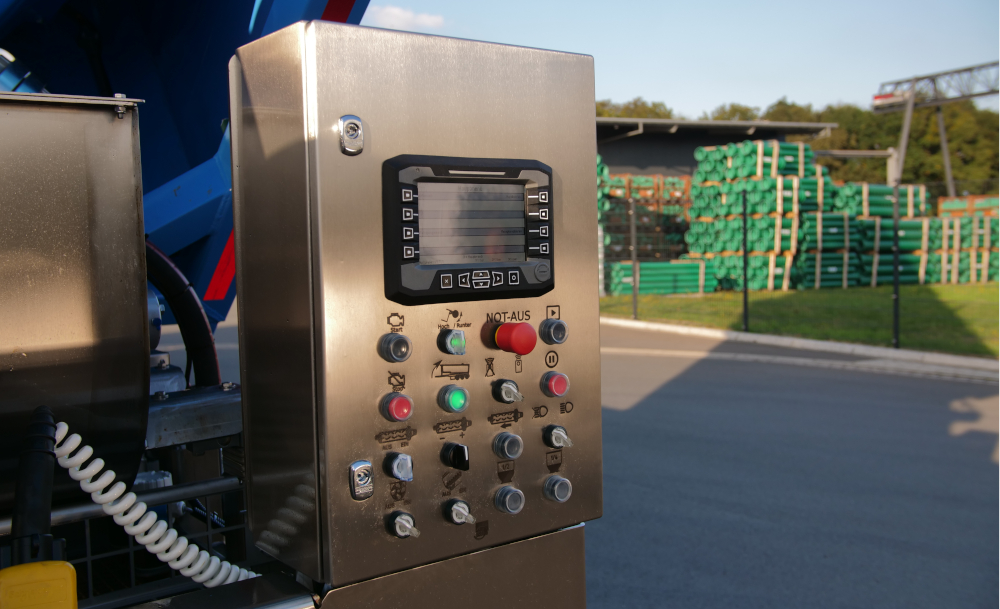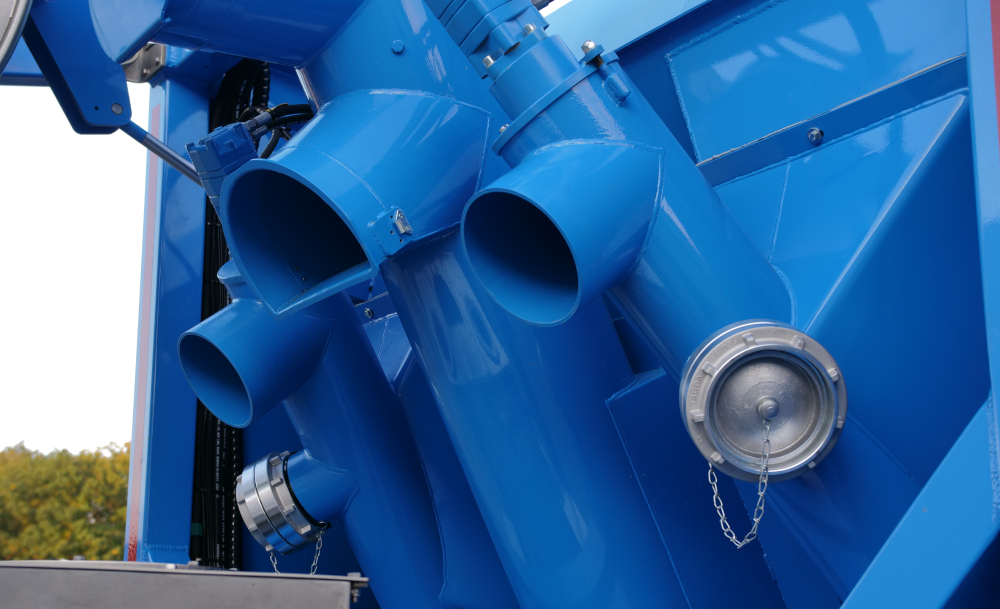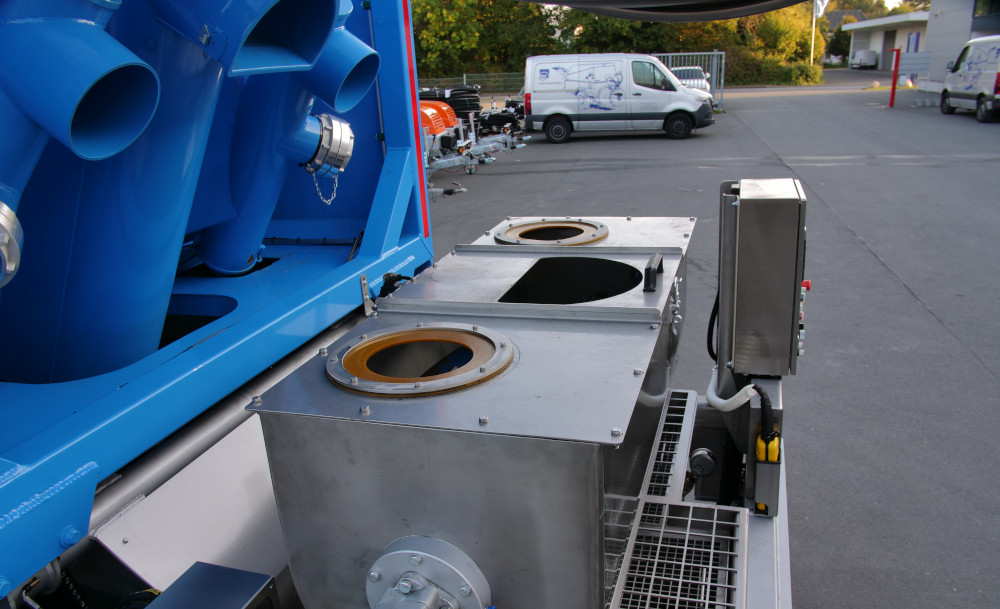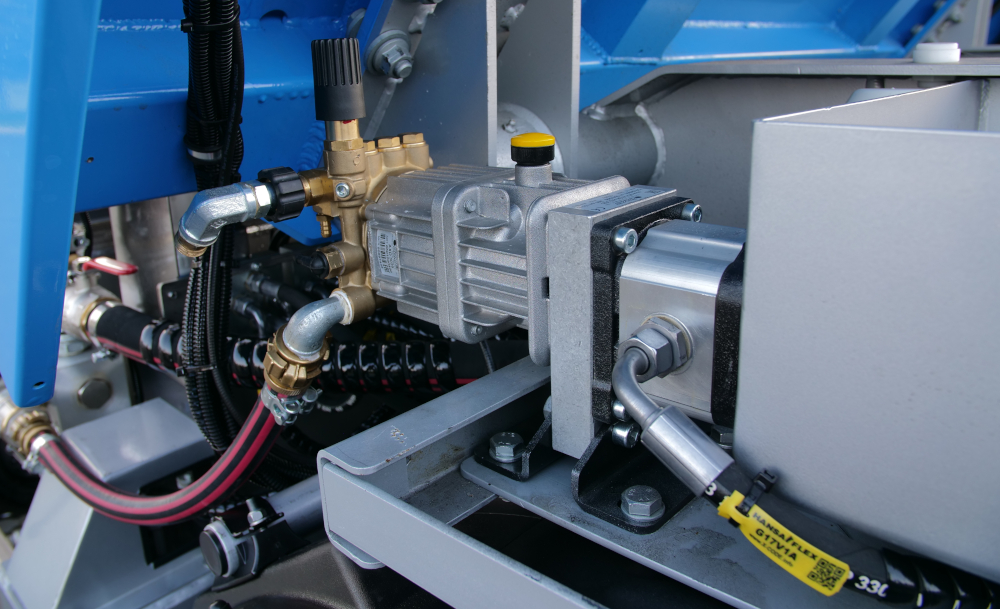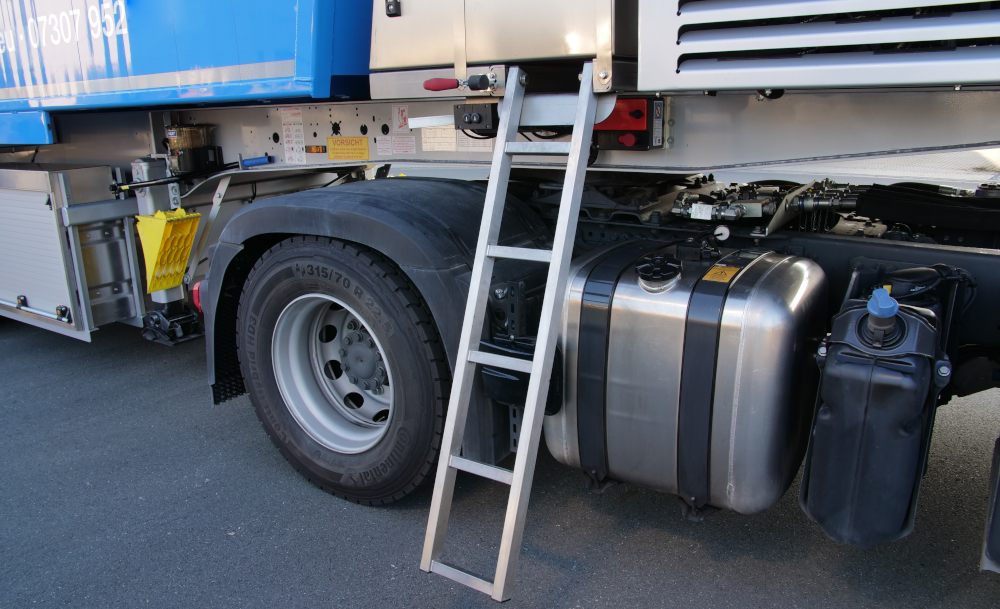 Strong. Fast. Clean.
TITAN F produces extremely cost-efficient floating screed of the highest quality.
The three-axle semi-trailer is equipped with a compact machine unit modelled on the alpha CR series with a 44.5 kW DEUTZ diesel engine and a high-performance compressor.
The central component of the TITAN is the double-walled aluminium body including chassis.
The total capacity is 25 m³ of material (e.g. 16 m³ sand, 9 m³ binder).
The high-quality stainless steel mixing and conveying tank is easy to access and clean.
TITAN F can optionally be equipped with screw conveyors or a conveyor belt.
The previously entered mixture is called up computerised with a button on the control cabinet with the "Danfoss" control panel at the rear. Also positioned in the rear is the high-quality stainless steel hose reel, which is height-adjustable and hydraulically driven. The reel can hold up to 120 m of feed hose.
There are many standard additional features, for instance high-pressure cleaner, scales, continuous storage compartment. Numerous technical configurations and customisations possible, e.g. generator, reversing camera, extendable drawer.
Facts and figures
Three-axle semi dump trailer
1. Axle as 2-side lift
3. Axle as self-steering axle – lockable from the cab and additionally by hand
Body with double-walled aluminium design
Standard size: 25 m³
Body made to measure, chamber partitioning freely selectable
Dimension in mm (LxWxH): 10700 x 2500 x 3250 (depending on the version)
Empty weight approx. 10.5 t
Equipped with extension hatch, injection device installed
*Alle Angaben sind Erfahrungswerte und materialabhängig.
.
Water-cooled three-cylinder Deutz diesel engine with 44.5 kW (complies with valid Euro 5 exhaust emission standard)
Innovative efficient cooling system with foldable fans
Conveying capacity: powerful screw conveyor for up to 15 m³/h
Mixing tank 350 litres, conveying tank 500 litres
Mixing and conveying tanks made of stainless steel, easy to access, easy to clean
Hydraulic tank stainless steel 300 litres
Fuel tank stainless steel 300 litres (with telescopic access ladder)
Cover made of stainless steel
.
Hose reel positioned in the rear, height adjustable, hydraulically driven
Electric sliding roof with remote control
Danfoss control with interchangeable modules – relay manually operable with fault indication
Robust 8-channel Danfoss radio remote control
Large water tank with approx. 1,000 litres
Hydraulic high-pressure cleaner
Large working light
2 vibrators for binder chamber
1 vibrator for sand chamber
Weighing system via 4 load cells