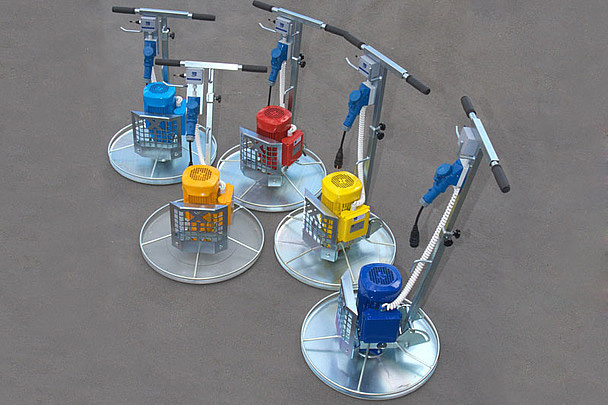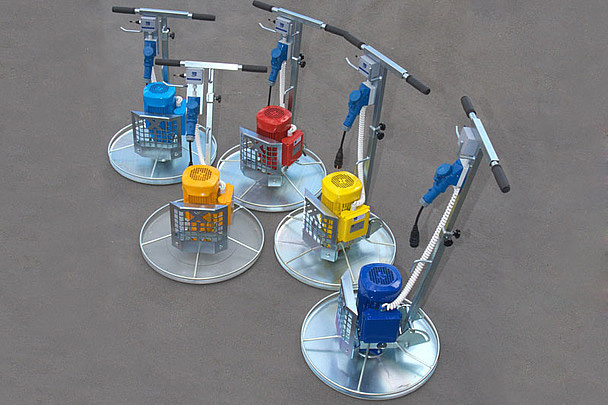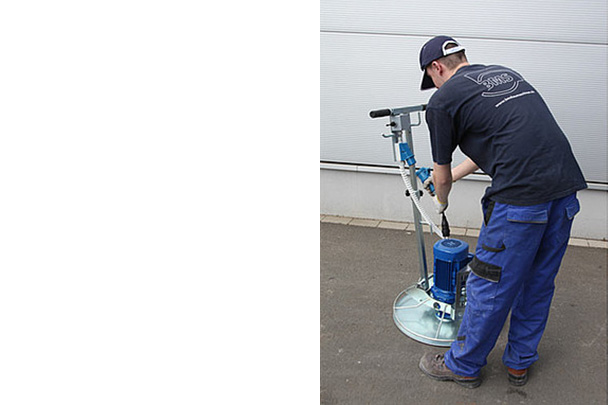 PRACTICAL COMFORT.
Wherever the handling of high-quality screed surfaces is concerned, BMS INNOVA 3100 offers the perfect solution for sanding and smoothing. Ergonomically shaped handles and continuously adjustable leading arms guarantee a long period of non-tiring w ork. The sturdy tubular construction as well as the powerful electric motor guarantee for a workflow without interruptions. The sturdy multi-purpose machine for construction sites is easy to handle and v ersatile. Impressive advantages: grinding, ablating, roughening and smoothing – one machine can do it all.
THE FOLLOWING GRINDING AND SMOOTHING PLATES ARE AVAILABLE:
Typ G 6001 with wavy edge
Typ G 6002 with bevelled edge
Typ G 6003 with bevelled edge, suitable for quick-change system
Typ G 6004 with wavy edge, suitable for quick-change system
Typ G 6103 with bevelled edge and large plate
Typ Special plate made of solid material, heavy, for high compression

ach trowel plate is compatible with every machine of the INNOVA power trowel series.
Technical facts:
Powerful maintenance-free gear motor 1,1 kW, 230 Volt
On demand extension cable permanently connected
Protection for capacitors for the prevention of damages
.
Easy handling due to continuously adjustable leading arms
Foldable carrying handle
Easy handling enables best trowelling results
.
Power trowel – on demand with foldable wheels
Spinning direction of trowel right or left
Quick release fastener or tightly screwed tool holder